Protection, when needed




The parapet... with a secret




This is an innovative parapet. A new possibility for using terraces and balconies

An excellent screen for winter gardens and open air spaces.
---
Up and down parapet



Intended use
The up and down "All Glass" BellaVista System parapet, without continuity solutions, has a minimum visual impact and can be adapted to any type of architecture.
We have no modules to combine of fixed width or height, we will listen to your requirements and will make a product that suits you best.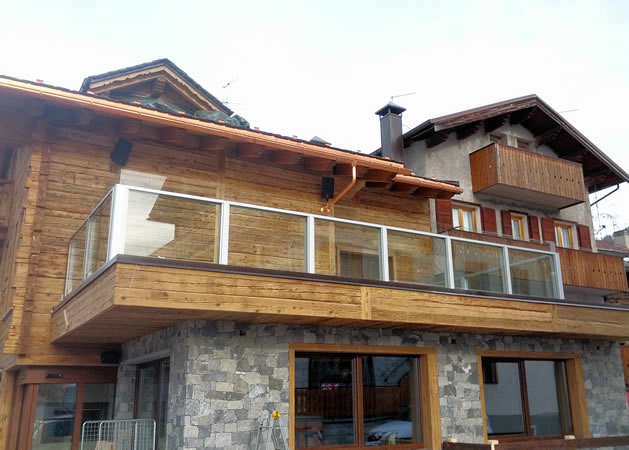 . Glass Parapet. Up and down moving glass incorporated in the lower frame.
Thanks to the mobile BellaVista System balustrade, terraces and balconies exposed to the wind can enjoy fast and complete protection in just a few seconds.
When the secret is revealed, i.e. the glass panel is raised, you can look out on to outdoor spaces without interruption and vice-versa, thanks to the fact that there are no struts between the individual glass panels.
In the version that is installed on the ground, it enhances outdoor spaces thanks to the very transparent and elegant panels that provide shelter and at the same time allow you to admire the view even when the weather would otherwise prevent you from doing so.
In the parapet version it becomes an integral part of the house. It is very useful for terraces exposed to the wind, for example in seaside areas.
The blank panel can be covered or painted to resemble a wall of the house. In this case it also has a water drainage system.
This is ideal, for example, to protect all situations where privacy is required. A classic example, in this sense, may be near a swimming pool, where a panel in etched glass can be installed.
The clamps make it easy to put the panels in line, overcoming the problem of slopes. Where necessary, a lower frame can be used, which creates a level where flooring can be installed from the outside.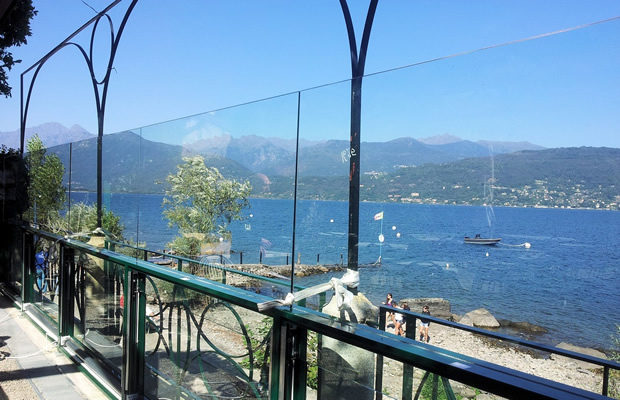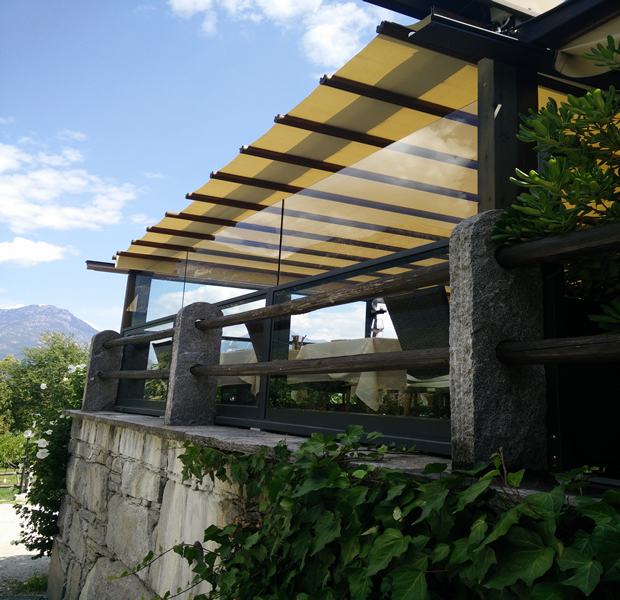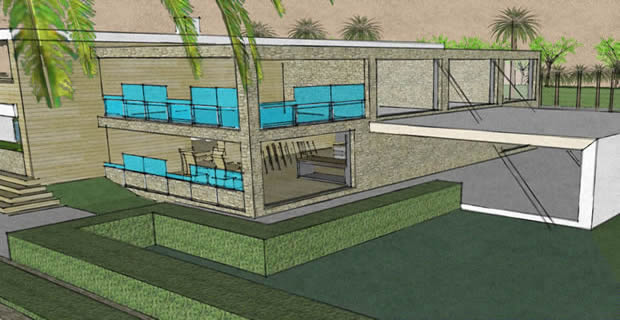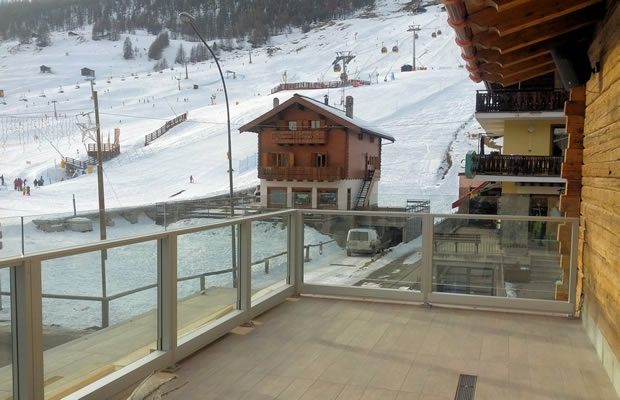 In the mountains
BellaVista System at 2000 mt


Parapet / Windbreak installed on a terrace of a well-known mountain town (2000 mt).
All Glass, Electrical


Essential features of the BellaVista System screen
The mobile screen, known also as a wind break, has been designed and built to measure with selected and tested materials in their systems, all to the benefit of their quality and functionality.
The aluminium structure is in primary anodized alloy (20μm) or painted in polyester powders.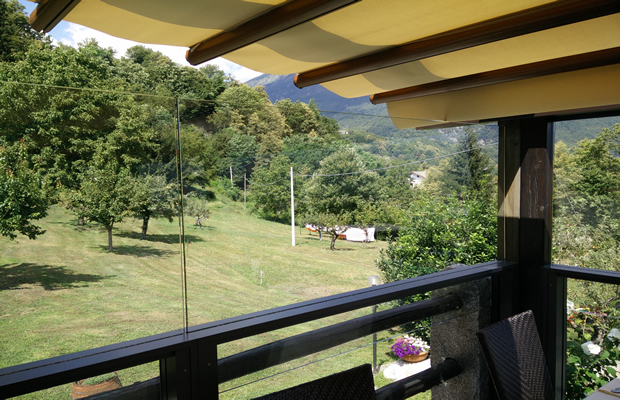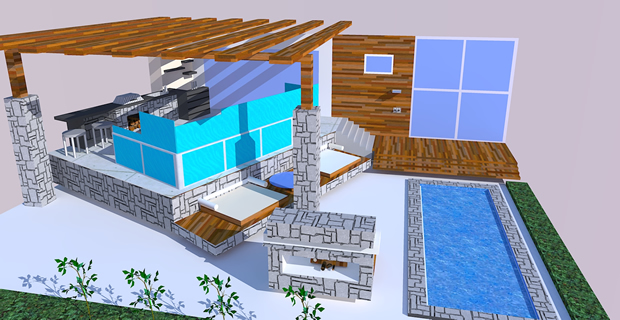 Moving parapet, lower part transprent or with opaque / blank panel. Moving glass screen incorporated, lower part with glass or blank panel that can be painted or covered (for example with wood or stone).
There are no limits in the horizontal direction, the screens can be used to surround spaces of all types and sizes, since the system is modular and completely flexible.
Made to measure according to customer requirements.
All Glass: there are no vertical struts between mobile panels.
Mobile panels are in glass that is tempered or laminated up to 10 mm, with polished edges.
The lower part is in transparent or opaque glass up to 10 mm thick, or with a blank wall.
Fixed modules can be made with the same aesthetics
The lower panel can be painted or covered as if it were a wall.
Electrical movement with remote control. Single or group movement.
The mobile panel can be blocked in any position.
Single electricity connection, there is an electrical feedthrough in each module.
The clamps make it easy to put the panels in line, overcoming the problem of slopes. Where necessary, a lower frame can be used, which creates a level where flooring can be installed from the outside.

More technical informations (Sections)
The movement


Electrical opening and closing

The fast and safe electrical system for opening and closing makes it possible to protect the environment and obtain localized shelter in just a few seconds.

The electrical movement is operated by a specialremote control or live-man switch wall (according to the model or use). The panels can be moved individually or in groups. The power provided is 220V. Movement must be carried out under supervision.

The mobile panel can be blocked in any position.

Table
Technical features
:
Context of use

Made to measure

Movement

(live man switch)

Maximum dimensions
(W x H mm)

Glass

(Fixed part)

Glass

(moving part)

Anchorage System

Elements with corner

BellaVista Mobile
PARAPET



Parapet

Yes

Electric movement (220V) with remote control or wall-switch.

1600 x
Frame 1100
Glass 2000**

Laminated 4.4 / 5.5

Blank panel

Laminated and Tempered 5.5

Fixing clamps

All glass

Choose another screen
More technical informations (Sections)
** PIt is possible to build higher with higher lower frame
Details


Glass Corner

Thanks to the absence of frame between the moving glass, BellaVista System creates an all-glass effect and you can enjoy the angle free from obstruction.


Details


Permanent seal




The panels in glass are only 4 mm away from each other. There is the option to install seals in transparent polycarbonate, specifically researched by GM Morando.

These seals for use in periods of residence are fitted between the two glass panels, closing out draughts and providing even greater protection to the environment. This possibility is particularly appreciated by business owners with open spaces that, during the winter months, can have a complete glass barrier.

Personalization


Types of glass and finishing

It is possible to personalize the BellaVista System both from the functional point of view, selecting the geometry and the measurements, and also from the aesthetic point of view, tilted parts in aluminium and glass in an infinite range of finishings (for the aluminium: including anodised, painted or wood effect; for the glass, including transparent to extra light or etched or even having personalized decorations).

More technical information on BellaVista (Sections)
Photo Gallery
GM Morando's Portfolio

To evaluate a product properly itís imperative to see it in action. In the photo gallery you can see the reality that BELLAVISTA SYSTEM creates with your own eyes.